Green roofs address livability issues in dense urban areas, improve both the performance and appearance of buildings, help the environment, and save you money.

Storm Water Mitigation
Most urban cities are covered in impervious materials like concrete, asphalt and roof watering membranes, which results in all of the water, during a rain event, being immediately deflected to storm water infrastructure. This puts considerable short-term pressure on storm water infrastructure systems and often results in flash floods. Green roofs act as sponges and capture or slow down this water deflection, giving storm water infrastructure time to deal with the water volume. Green roofs also help to filter and improve the quality of storm water run-off.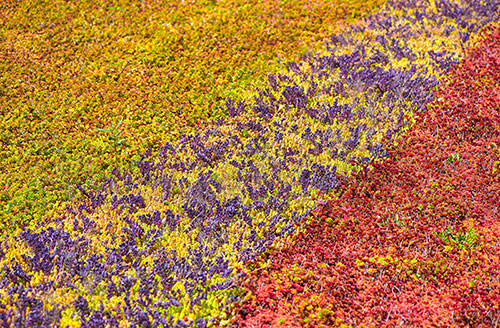 Reduce Heat-Island Effect
Increased use of concrete and glass in dense urban areas causes heat island effect, which can result in up to 5 degrees C of extra heat in city centres. This is unhealthy and uncomfortable during warmer seasons. Green roofs and other living architecture as well as park green space help to reduce dense urban temperatures considerably and also infuse the surrounding areas with a fresh supply of oxygen.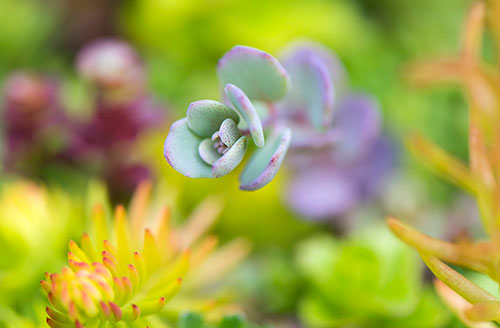 Biophilic Design and Wellness
The benefits of living architecture in buildings dedicated to wellness; hospitals, hospices etc., is becoming well known, The health and well being of patients of students in institution buildings using green spaces extensively is greatly improved and well documented.
Acoustic Buffering
Living architecture systems like green roofs can provide effective buffering from outside noise. As we begin to build much denser architecture in urban areas this feature can play a huge role in residential and commercial comfort and building usability.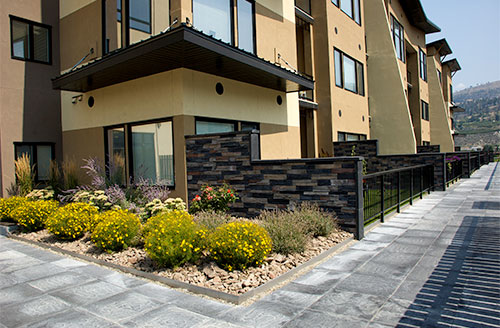 Aesthetic Beautification
Green roofs add significant beauty to the building as it is seen by those surrounding it.
Green roofs usually save money over the long term. For industrial installations with large heating and cooling costs, a green roof can save enough to cover its extra up-front cost in just a few years. For smaller buildings the payback period is longer, but a green roof almost always pays dividends over its full lifespan. It also increases a building's resale value, plus its desirability helps lower vacancy rates.
Green roofs provide numerous benefits, in numerous categories, including economic returns, cleaner, cooler air and reduced noise. Their beauty and serenity can even improve your mood, energy level and general satisfaction. For a business, that means happier, more productive employees.
Where Green Roofs are used?
Green roofs can be used on virtually any building, large or small. Here are just a few examples:
Residential homes
Malls & commercial buildings
Apartment/Condo buildings
Industrial warehouses & facilities
Office buildings of all heights
Parking garages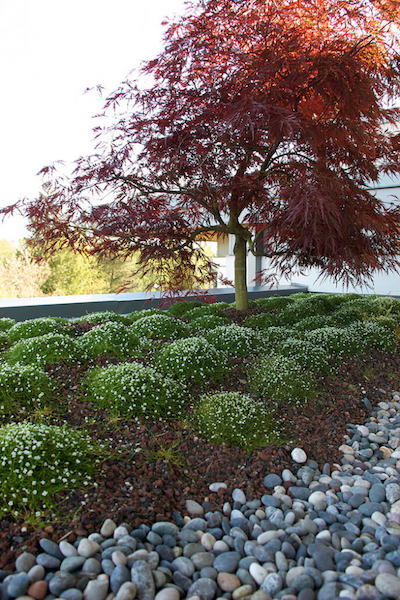 Types of Green Roof Systems
SEMI-INTENSIVE GREEN ROOFS
Medium depth, green roofs that usually use more substantial grasses, perennials or smaller shrubs. The soil or grow media/substrate layer is usually 150mm to 300 mm: 6-12″ and the entire system has a saturated weight of less than 40 lbs. per square foot, average being about 30 lbs. per square foot.
Datasheet PDF > Semi-Intensive  [semi-intensive]
Deeper grow medium, green roofs that employ elaborate landscaping design with combinations plants, full size shrubs bushes and trees. The soil or grow media/substrate layer is usually 300 mm – 1500 mm: 12″ + and the entire system has a saturated weight of greater than 45 lbs. per square foot, average being about 50 lbs. per square foot.
Datasheet PDF > Semi-Intensive  [semi-intensive]
SLOPED OR PITCHED GREEN ROOFS
Sloped green roofs extremely attractive and highly visible from the ground, however they have unique challenges and need to deal with erosion and shear forces due to gravity. The soil or grow media/substrate layer is usually 100mm – 200mm: 4-6″ and the entire system has a saturated weight of less than 35 lbs. per square ft. – average being about 50 lbs.per square foot.
Datasheet PDF > Gentle Slope [pente douce], Steep Slope [pente forte]
BLUE/GREEN WATER RETENTION GREEN ROOFS
As a full-service green roof supplier we are pleased to also have an ultra-high water retention green roof system that not only retains high volumes of water for enhanced storm water mitigation, our system also provides for passive irrigation utilizing wicking geotextiles and specialized wicking cylinders.
Datasheet PDF > Blue/Green Roof [rétention d'eau + irrigation passive pour toiture bleue / verte]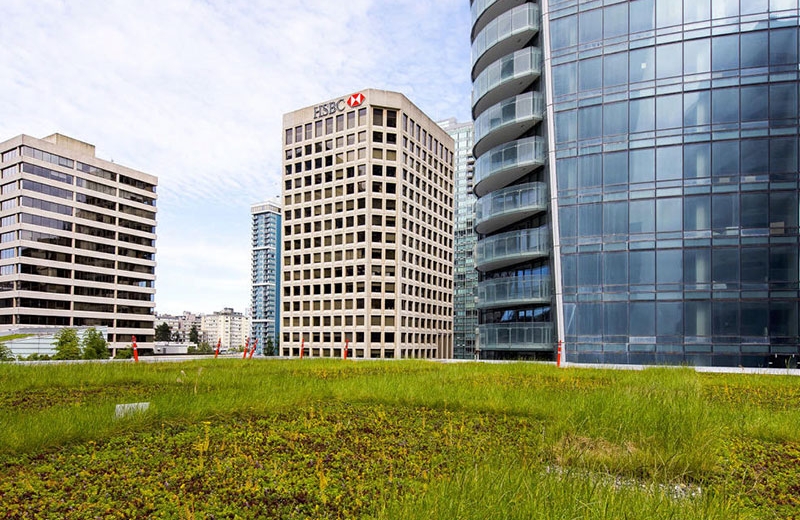 Green roofs are usually held in place just by the weight of the grow-medium. Weight-loads start at 17 lbs. per sq. ft (saturated) and increase with the depth of the grow-media. For extensive green roofs up to 150mm (6″) in depth, no additional structural is usually required. On semi-intensive and intensive greater than 150mm it is advised to consult with a structural engineer about what load the roof was designed for.
Installation & Maintenance Costs
Costs vary greatly, but an extensive green roof with 100mm of grow medium is commonly in the range of $16 to $22 per sq. ft., including installation and plants. On a large scale installations using sedum cuttings and 60 mm of grow medium, it can be as low as $11 per sq. ft.
A few cities offer a $5 per sq. ft. incentive to encourage more green roofs.
Over its life, the maintenance costs for a green roof are less than a conventional roof. This is because a green roof can last 50 to 75 years with just basic maintenance, whereas a regular roof covering, like shingles, must be completely replaced every 15 years.

Changing the urban landscape with sustainable, energy-efficient solutions that bring nature's tranquil beauty to modern structures
Canada's exclusive distributor for Jakob Rope Systems – The world's leading manufacturer of premium AISI 316 high-grade stainless steel cable and hardware for architecture