Architek's Modular Green Roof Product
Architek, in conjunction with Ecovegetal, is pleased to introduce the first modular green roof tray system that has attributes similar to an engineered green roof. With all of the traditional benefits of a tray green roof system, The Eco Sedum Tray has a number of advantages including advanced water retention, anti-erosion soil retention pods, and our own patented bio-degradable soil fences allowing for varying soil depths.
Designed for modular & sloped green roofs
Modular green roof systems are ideal for do-it-yourself homeowners, smaller projects, and roofs that have crane access issues. They can also be used for sloped green roofs which are extremely attractive and highly visible from the ground, however sloped roofs have unique challenges because they need to deal with erosion and shear forces due to gravity. The soil or grow media/substrate layer is usually 75 mm due to the retention piece and 4"-6″ and the entire system has a saturated weight of less than 30 lbs. per square ft. – 50 lbs per square foot with grow media depths up to 200mm.

Key Features
– 100% recycled material
– Improved thermal efficiency
– Noise protection
– Protection of roof membrane
– Attractive visual to the roof
– UV protection
About This System
Thickness of system (inch): 5.0"
Dry Weight (kg/sq.m): <40
Saturated Weight (kg/sq.m): <90
Vegetation (types): mix of sedums, plugs, erennials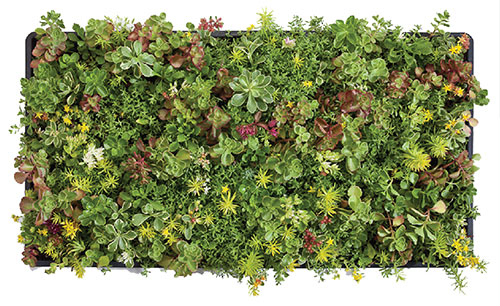 Special plants for ground cover perennials
Sedums, plugs, and small perennials. Sedum size: 12" x 24" (different mixes). A coconut fiber base assures effective rooting of plants to the underlying growth medium and holds the tile together for easy installation.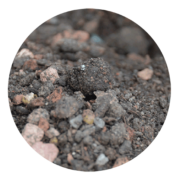 Architek extensive mix
The proper blend of organic matter and aggregates to an FLL standard. The growing media ensures the nutrients needed for the growth of plants, serves as a support to the roots, and thus providing the ground for the growth of the vegetation. It includes mostly minerals, mixtures with proper air content, and durable good water permeability and stable structure.
Available in bags and bulks.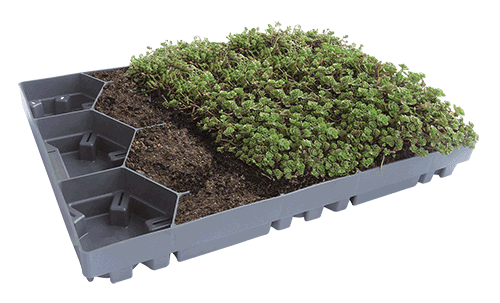 Purus ecosedum pack
Made from 100% recycled material, the system specially designed honeycomb structure ensures optimum water retention and at the same time can stores rainwater. Drainage system embedded to each module. 
Board size (mm): 400 (W) × 600(L) × 75 (H)
Material 100% recycled/recycable PE/PP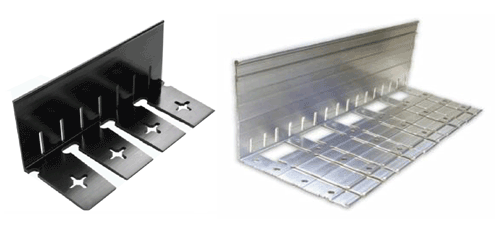 Flexible and rigid edging
Made from 100% recycled post-consumer PVC or recycled aluminum both are 100% recyclable. Drainage slots and multi-purpose stake holes are also optional. PVC version has a UV inhibitor to increase strength and resistance to ultraviolet radiation.
Black PVC: Heights and Widths up to 6" and as low as 3"
Alumium (Mill or Black finish): Available in 8 ft sections from 3"x3" to 8.5"x7.5r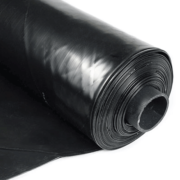 Root barrier
Root resistant and vapour control layer made of 20-40 mm thick elastic polyethylene regenerate. Applicable as a vapour control layer and can be used as a root resistant layer on green roofs when laid down with a 1.0 m overlapping. Dimensions: 4×25 m (W×L); Roll width: 1 m; wrapping: 100 m2/roll; colour: black.
Subscribe to Our Newsletter
Keep on top of new developments and innovations in Living Architecture and get design-inspired by some of our newest projects.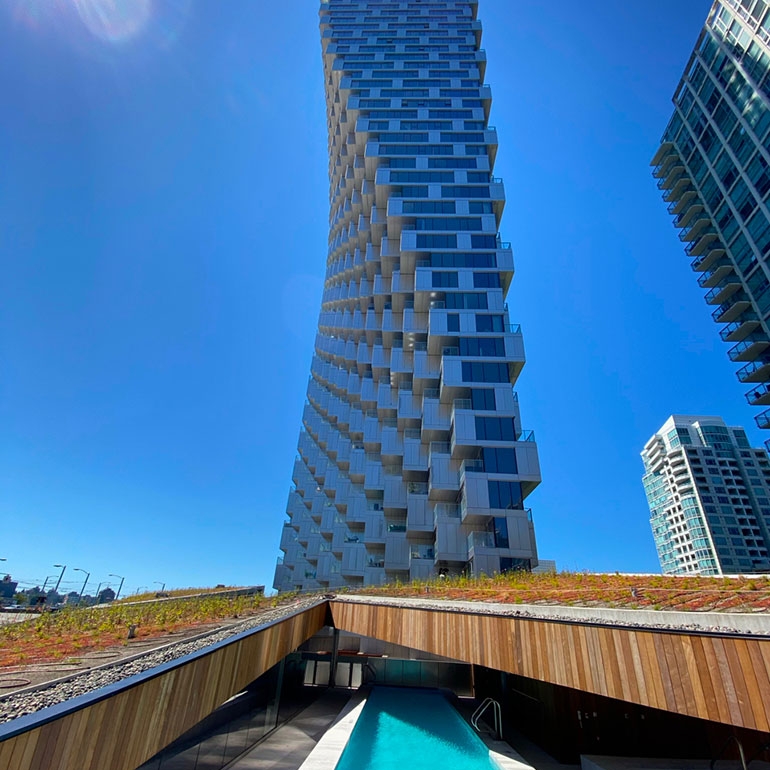 Changing the urban landscape with sustainable, energy-efficient solutions that bring nature's tranquil beauty to modern structures
Canada's exclusive distributor for Jakob Rope Systems – The world's leading manufacturer of premium AISI 316 high-grade stainless steel cable and hardware for architecture